Blog
Technical Specialist - Kenya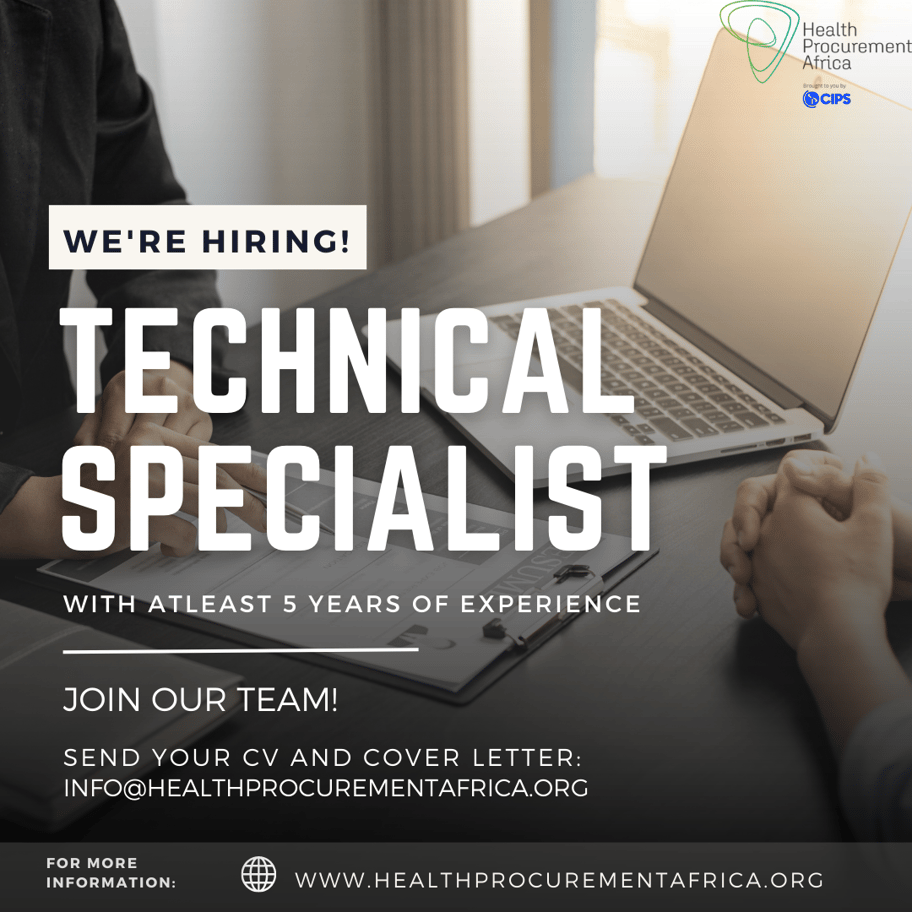 ---
We are hiring a Technical Specialist in Kenya to work closely with public health procurement entities to support their quantification functions and lead the delivery of relevant quantification activities.
Participate in the delivery of the wider Programme objectives in country through the effective identification and management of stakeholders and promotion of Health Procurement Africa.
Provide technical leadership and support to the National level and Sub-national level public health stakeholders in the development of health products forecast and supply plans with periodic reviews to inform funding requirements, financial gap analysis, resource mobilization, and procurement decisions.

Facilitate assumption-building activities that will guide the development of health product forecasts and supply plans to meet the needs of relevant Stakeholders.
Support the focal public entities to design and roll out innovations to increase the sustainability of own-led quantification activities towards improved procurement decisions, and health products monitoring activities.
Support capacity-building interventions for the National and Sub-national levels health workforce and collaborate with other partners to ensure a reliable supply of health products in the focal public entities
Support the development of process flows and standard operating procedures for forecasting and supply planning activities.
Provide technical support to health program procurement and supply management technical working group (PSM-TWG) meetings at the National and Sub-national levels on quantification activities.
Develop and deliver appropriate supply chain presentations and reports on current situations, innovations, and supply chain solutions that will promote health products' security and sustainable systems.
Be a leader in driving forecasting and supply planning process improvements at all levels of the health system such as measurement of performance metrics e.g. forecast accuracy, error, and bias. to improve the quantification process and outcome for medical products.

Collaborate with the Ministry of Health in supporting the development of a performance management/ M&E framework for the quantification process.
Lead technical support in the assessment of health products demand forecasting towards implementation of pooled procurement mechanism in Kenya.

Communicate quantification ideas concisely to a wide variety of stakeholders.
Support the creation of comprehensive visibility into the health products pipeline to enhance the procurement decision-making process and transparency.
Support achievement of the overall project goals as required to ensure project performance.

Perform other assigned tasks related to the project deliverables.
Qualifications & Experience
English Speaking
Degree in pharmacy or related field. Health supply chain management knowledge and a Master's degree will be an added advantage.
Highly numerate/analytical with proven ability to interpret data and construct written reports.
At least 5 years of specific experience in leading quantification of health products while supporting government at National and sub-national levels
At least 10 years of experience working in the development sector and supporting government at different levels.
Experience in the use of quantification packages such as quantimed and pipeline

Strong relationship management skills
Highly analytical and logical

Strong written skills
Skilled in reviewing guidance materials, management reports, etc.

Experience in successful project management
Ability to prioritize.

Strong time-management skills
To apply send your application to info@healthprocurementafrica.org by Friday 18th August at 5 PM EAT, with ''Technical Specialist - Kenya'' in the subject line.
All applicants must be based in Kenya and authorized to work in Kenya.